Description
Lessons available individually, $20 each, or save $135 on the complete series:
John Carney is widely acknowledged by his peers as a modern master of sleight of hand. In these videos, John offers twelve lessons, most of which have never appeared in book or video before.
In each installment, Carney demonstrates universal principles which are applicable to any magic you undertake. This is the next best thing to private instruction with John, at a fraction of the cost for a single lesson.
This is "A" Material from John's repertoire – not trendy magic "products," gimmicks, or silly rehashes. John will lead you through his process as he demonstrates how to make your own material evolve, through thoughtful creative choices.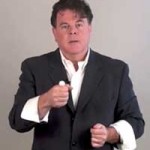 Mora Ball Routine
Think you know the classic Mora Balls and Net? John reveals the secrets of making a simple trick into something truly magical. This is very commercial, visual magic, that packs small, and plays big.
Three roulette balls are magically produced, one at a time, in a very clean manner. They then inexplicably disappear from one hand to reappear in the other. One of the balls is placed in the pocket, but still, three remain. This is repeated, each time, stressing the fairness, and yet three always remain. Finally all three balls disappear at once.
As simple as the plot may sound, John's handling gets a tremendous reaction through his streamlined handling, and his focus on simplicity, naturalness, and application of "changing the moment". (34:50)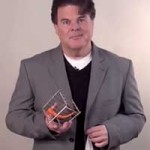 The Vanishing Bird Cage Re-imagined
Several methods for this classic trick, with John's fresh and original approach. New Hook ups and Ditches. New Methods and Techniques … with a pull, and without!
A lesson itself on problem solving and the pursuit of better methods and effects. (57:21)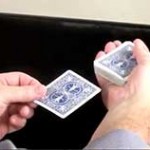 Fixing Fundamentals
Polish your technique like a pro! Sometimes what holds us back are the tiny details missing from the tools we use everyday. Proper technique achieves a consistent outcome by paying attention, "even to trifles," essential incremental adjustments that separate the experts from the dilettantes. Fix these fundamentals, and everything you do looks more polished and professional.
Tips and touches to improve; Top Change; Glide; Palming; Counts; Double Lift; Crimps; False Shuffle; Force; Side Steal; The Pass … and much more to learn in the process!
Fixing Fundamentals 1 (45:22)
Fixing Fundamentals 2 (01:05:51)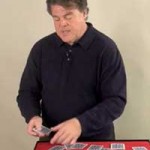 Eddie Fechter's 8 to 12
From the master Eddie Fechter, comes an entertaining and astonishing Cards Across routine that takes off in an unpredictable way with a surprise twist ending! This is a very commercial card routine that John still uses as part of his "A" repertoire. Discover the touches and techniques that have made it one of his favorite showpieces.
You will also find lots of great general advice on palming technique and management! (30:33)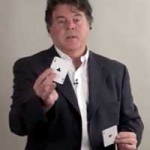 Four Gone
Here is a pure manipulative card routine that may be done under intimate conditions.It begins with a clean and visual production of four aces from mid-air, and ends with them vanishing one at a time, to re-appear in four different pockets!
Also included is a discussion of John's inspirations – Ross Bertram's brilliant Five-Zero-Five, and Cliff Green's Phoenix Aces. (1:00:11)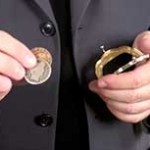 Time/Space Coin-tinuum
John's variations on Fred Kaps' Purse Frame Routine. From a small bag-less purse, the magician produces two different coins, seemingly from nowhere. What follows are vanishes, more productions, transportations, transpositions, and penetrations, in one beautifully choreographed routine.
Included are several advanced coin techniques, including Presto's Classic to Classic switch. Also, the production of a handkerchief from the purse frame. Great, visual magic.(52:58)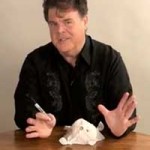 Impromptu Collection
Strong magic and gags, with; Straws, Glasses, Plates, Silverware, Sugar Packets, Matches, Coins, Rings, and Napkins.
All can be done at a moment's notice, with little or no preparation, using common items found in most any home or public place. (1:01:11)
Leon's Haunted Dollhouse
John's clever variations on the Great Leon's miniature illusion, where the spirits come to life, tying knots in ropes, animating toys, drawing spirit pictures, and finishing with a ghostly face that appears and floats in space! John's ideas make the entire routine more natural and baffling.
Bonus effect: The Magnetized Wand that sticks to your hands. Upon command, it leaps from the magician's fingertips! (54:19)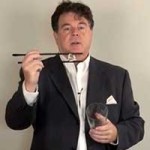 Choptricks
A perfect illusion of snatching a signed bill from mid air amongst other decoys, while blindfolded … with chopsticks! An entertaining and novel mystery from John's Comedy Club act.
John also discusses The Ladies Looking Glass, where the cards a scattered in the air, and the magician plucks the selection from the melange! (33:06)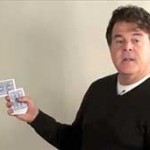 Commercial Cards
Visual and Entertaining card work from John's "A List" working repertoire. Shared here are several unpublished methods, stratagems, and subtleties.
Included are streamlined handlings for the Rising Card, Stabbed in the Pack, Ace Transposition, Dunbury Delusion (with great work on the Bottom Deal), and the Diminishing Cards. (1:12:11)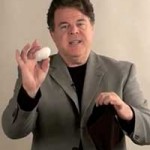 Touches on the Classics
Not full routines, but tips and twists that make classic routines smoother, more deceptive, and amazing.
Included are finesse and novel techniques for the Cups and Balls, Egg Bag, Linking Rings, Ambitious Card, Card to Wallet, Cards Across, and Color Changing Hank (01:32:25)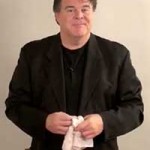 Okito's Elixir Silk
A baffling vanish and reproduction of a handkerchief under test conditions. Also included is the little known L'Homme Masque handkerchief production method, with a seldom seen or used gimmick, and Charlie Miller's Left Handed Knot and the Spirit Knot that visibly unties! (51:04)
You will own these videos, and have access to watch as often, and as long as you wish.
Just a few testimonials...
… a master class … This entire series is worth its weight in gold, and it is priced so reasonably that there is no reason miss out.
I truly feel that I have a mentor guiding me along my magical development.
The video platform is easy to use. I personally got more than my money's worth from one lesson, but I have felt that way about each of the lessons.
… easily been one of my best purchases in the last year … No fluff, no distractions, just solid material and information.
... expounds upon that which is essential to good magic …… well produced, worthy of study, and very easy to install/use.
... an unbelievable value ... destined to become another magical milestone ... I couldn't be happier.
There are poor magic investments, good magic investments, and a truly rare bird, extraordinarily worthwhile magic investments ... this is one of them.
All content of CARNEY 2019, John Carney/CarneyMagic.

*not available as a download, as a DVD, or from dealers.